R4i Laterals
Ultra-High Purity
Prefab Laterals with Integrated
Diaphragm Valves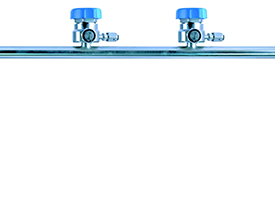 Carten's ready-for-integration R4i-Laterals are designed to meet all UHP specifications for the semiconductor industry. Prefab laterals are fabricated using a pulled-tee method, then welded, tested, and packaged in a Class 10 cleanroom environment in a partnership with Dockweiler.
High-purity gas system lateral with integrated industry-approved SPDS diaphragm valves
Integrated lengths up to 24' mean fewer welds, reduced time to UHP qualification
Main tube sizes to 6" Ø, valve branches to 1" Ø
Both manual and air-actuated valves available
All R4i laterals are 100 % Helium leak tested
(1x10-9 scc/sec)
Fast delivery due to worldwide manufacturing
3D CAD data for BIM modeling available
Full UHP certification package provided
R4i Series - Additional Information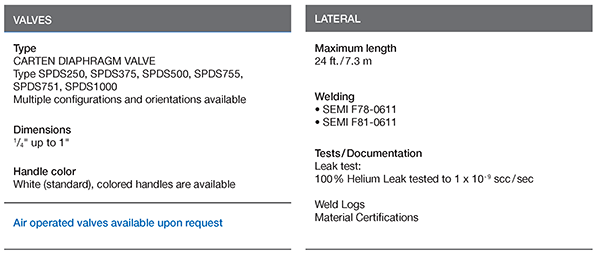 SPDS Series - Technical Data
For technical data on the valves used in R4i Laterals, see our SPDS diaphram valves page.