AR Series
Low-Flow
Electronic Digital Control
Ceramic Linear Control Valves
Click Here for PDF File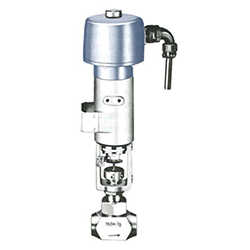 This AR ceramic valve series is designed for outstanding control precision, repeatability, resolution, and other characteristics needed for high-speed operation in a compact body — qualities unachievable with conventional motor drive valves.
Electronic signal. Operation with a4-20 mA instrumentation signal.
Outstanding resolution. Standard models take 2133 steps per full stroke.
Less than 0.1% hysteresis. AR2000 electronic valves use a stepping motor for extremely high stroke positioning.
Direct computer control. Simply install an interface to enable direct computer control.
No electro-pneumatic converter required. Valves can be controlled by cable up to 100 m from the control panel.
Explosion-proof designs (d2G4) available.
AR
Series - Additional Information