CBV Series
Full-Sized Manual and Actuated
Ceramic Ball Valves
Click Here for PDF File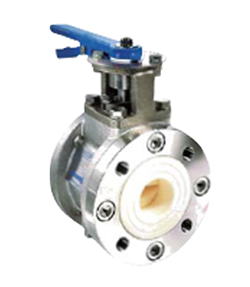 The CBV ceramic valve series is designed for challenging high purity environments with superior characteristics in the areas of corrosion, abrasion, cavitation, and control:
Corrosion. Virtually inert to organic and inorganic chemicals, stable against most acids and alkalis; do not interact with or contaminate process media.
Abrasion. 99.5% alumina ceramic is 43% harder than zirconia, 140% harder than porcelain, and 730% harder than stainless steel.
Cavitation. Even severe, continuous cavitation will not damage our ceramic valve components, making them ideal for use in pressure-differential applications.
Ultra-Precise Control. Our mini-control valves offer less than 0.2% backlash/stiction,
0.1 secondaverage response time, and 0% overshoot.
Options. Variations include manual, pneumatic, electro-
pneumatic, and electronic actuation, round and
triangular/equal-percent ports, diameters from 1/2" to 6",
and Cv from 1.5 to 750.
CBV Series - Additional Information